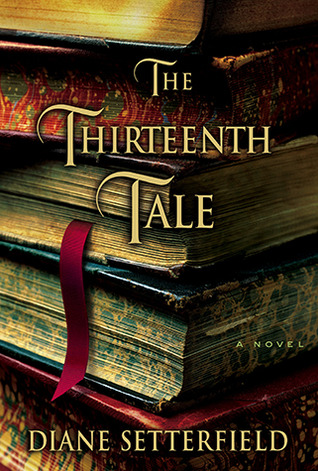 The Thirteenth Tale by Diane Setterfield
5/14/2007-5/16/2007–406 pages–fiction (England, authors, biographies, twins)
Borrowed from WCDPL
★★★★★
I haven't read a book this enticing since I ready Harry Potter or Dan Brown's Roberty Langdon series. I really couldn't put it down. A famous authoress in England who has never given a truthful interview of her life suddenly writes a young amateur biographer to write the truth of her life. So Margaret, the biographer, whose life has been lived thru books, goes to Vida Winters' house to hear her story. And Margaret begins to learn things about herself as Miss Winters tells her story.
~*~SPOILERS~*~
I must admit, the last twist was completely unexpected. Looking back, it all makes sense. How Miss Winters didn't use "I" and didn't say that Adeline was her. It would explain why she, when actually putting herself in the story, was normal and levelheaded unlike Adeline.
Now that I've finished it, I can't help but wonder: Was the woman in Miss Winters' house Adeline or Emmeline? We're led to believe throughout that it's Emmeline, but Miss Winters explained she just grabbed one and then it was never stated which it was.
I did keep waiting for some twist to show Margaret was somehow related to Miss Winters.
~*~END SPOILERS~*~
And I also really wish I could read some of Miss Winters' work. It sounded so intriguing!
"My gripe is not with lovers of the truth, but with truth herself. What succor, what consolation is there in truth, compared to a story? What good is truth, at midnight, in the dark, when the wind is roaring like a bear in the chimney? No. What you need are the plump comforts of a story. The soothing, rocking safety of a lie." (p5)
"People disappear when they die. Their voice, their laughter, the warmth of their breath…All living memory of them ceases…Yet for some there is an exception to this annihilation. For in the books they write they continue to exist. We can rediscover them…They can comfort you. They can perplex you. They can alter you. All this, even though they are dead…By the miracle of ink on paper, preserved. It is a kind of magic." (p17)
"When one is nothing, one invents. It fills a void." (p115)