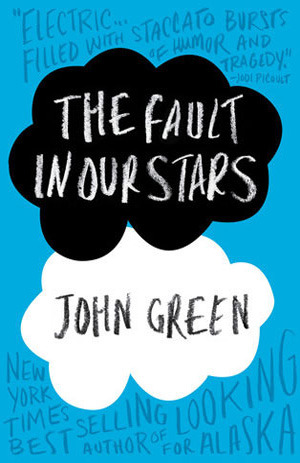 Title: The Fault in Our Stars
Author: John Green
Length: 313 pages
Published in: 2012
Genre: fiction/young-adult fiction (relationships, cancer, literature)
ISBN: 9780142424179
Source: personal collection
Reason for Reading: I got it off the shelf at the store while I waited for a prescription to get filled at the pharmacy and read only a chapter. But it was so good, I bought the book and finished it 🙂
Rating: 4/5
Summary (from book cover):
Despite the tumor-shrinking medical miracle that has bought her a few years, Hazel has never been anything but terminal, her final chapter inscribed upon diagnosis. But when a gorgeous plot twist named Augustus Waters suddenly appears at Cancer Kid Support Group, Hazel's story is about to be completely rewritten.
My Thoughts: I really enjoyed this book. I honestly hadn't meant to read it, since I sort of wanted to see the movie. (I can't read a book and watch its movie counterpart too close together because the movie makes me mad when it differs, even slightly and in inconsequential ways.) Anyways, after I read just the first chapter, I was hooked. After the last book I finished, with all of its mystery, it was nice to have more of a straightforward story. Everything was simple in the way the story was told–so much more real than fiction at times–even if there were a bunch of emotions running wild throughout. I sort of foresaw what would happen with Hazel and Augustus, but "knowing" it ahead of time didn't affect how I absorbed the story. I would say this book would be good for any reader, young-adult or older.
Quotes I Liked:
"'That's the thing about pain,' Augustus said, and then glanced back at me. 'It demands to be felt.'" (p63)
"What a slut time is. She screws everybody." (p112, Peter Van Houten)
"'Grief does not change you, Hazel. It reveals you.'" (p286, Peter Van Houten)